Rain, wet grass and mud are challenging circumstances for leather hiking and backpacking boots. It is important to clean and condition your hiking boots regularly. How to do that? In this How To article and video I explain How To Clean and Condition your hiking and backpacking boots so they stay in super condition. Enjoy!
Maintenance … Is it necessary?
The answer is short and sweet: yes! Especially if you want to enjoy your hiking boots for a long time. Yet there is a difference in the degree of maintenance. And that has to do with what your shoes are made of: leather or synthetic material or a combination.
Leather versus synthetic material
Despite the rise of synthetics, the majority of hiking boots – more on hiking boots here – are still made of leather. Leather is a natural material and as long as it is still part of the animal, the sebaceous glands ensure that the skin – leather – is nourished and remains supple. So we have to take over that task in our shoes. If we don't, the leather will dry out and eventually tear. This can hardly be repaired. In addition, poorly maintained leather is no longer waterproof. 3 types of leather are used for hiking boots.
Full grain and top grain leather
Leather is still the best material for hiking and mountain boots. It repels water, is supple and molds over time with your foot. Moreover, it 'breathes', keeping your feet warm but not overheating and getting enough oxygen. Of the leathers discussed here, regular leather – mainly full grain and top grain leather – are the easiest to keep clean.
Nubuck
Made of smooth leather, but the top layer is lightly sanded. Nubuck is heavily dyed in all kinds of colors. The disadvantage is that when sanding the top layer, you tackle the strongest part of the leather, making the shoe less water-repellent. Nubuck is also more expensive than smooth leather and suede.
Suede
Looks like nubuck in appearance, but is made from the inside of the leather instead of the outside. This also makes it a bit weaker than nubuck and smooth leather. Often look nice, but the hairs hold dirt more easily and you have to brush suede extra well.
Synthetic shoes – usually Cordura, a nylon – also require maintenance, but considerably less than leather shoes. What about the combination of leather and plastic? Follow the step-by-step plan below and the answers for a correct maintenance method will follow.
Cleaning: The outside
Step 1: Dry cleaning the surface
Start by removing the laces and the insole from the shoes and bring the tongue forward well. Then remove the superficial dirt with a dry soft brush. Also scrub well in the folds at the nose and shaft and don't forget the edge between sole and upper. You can clean the profile sole with a hard dry brush.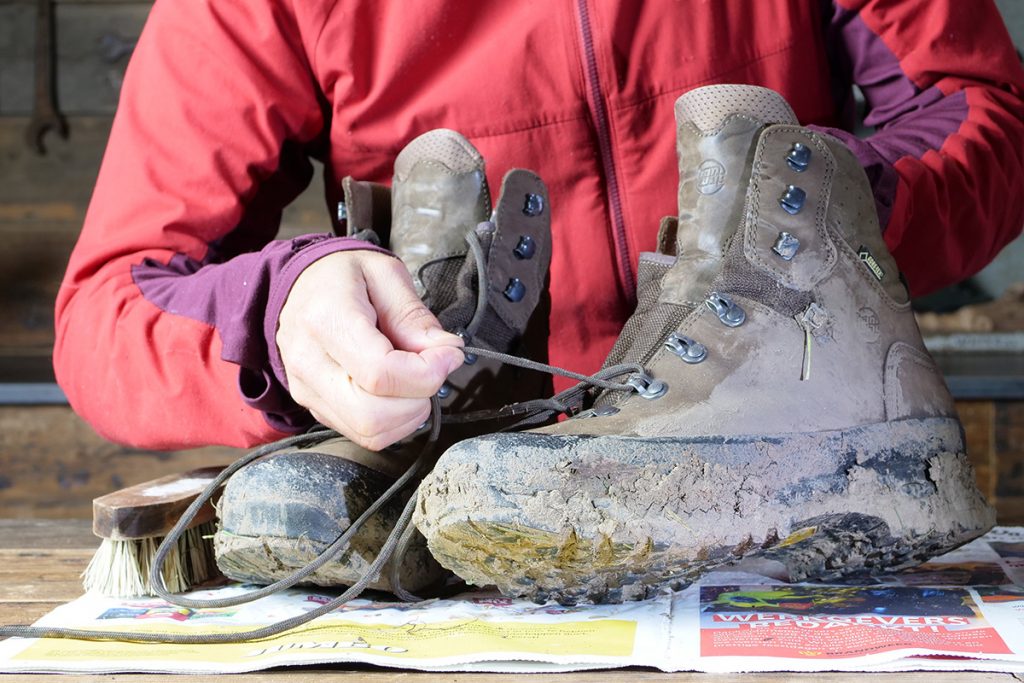 Step 2: Cleaning with water
If your shoes are not yet clean after dry brushing, then work with lukewarm water and if necessary a little bit of green soap. In this way you will also remove the deeper dirt. If you don't do this and you continue with the impregnation, you also impregnate the dirt. As it were, you lock up the dirt, which, for example, nullifies the natural breathability of leather. The sole can also be cleaned with water or some soapy water from a little bit of green soap and lukewarm water. With a joint nail you can very well remove the dirt between the profile. And you can now inspect your sole right away. With many hiking shoes it is possible to replace the sole – which is often the fastest to wear out.
Step 3: Impregnation
An important step in the maintenance process is impregnation. You usually use an impregnation spray for this. Spray it well on your entire shoe, also pay close attention to the joints and bending edge. By impregnating you make the leather dirt and water resistant again and you restore its breathability. Note: your shoe will not be water and dirt proof. Shoes that were not waterproof at the time of purchase do not suddenly become so when you impregnate them. After impregnation, let your shoes dry well, away from heat sources and at room temperature.
Suede shoes need to be impregnated more often than other leathers. This is necessary because these materials hold more dirt and do it faster than smooth leather.
Synthetic shoes do not need to be impregnated.
Step 4: Wax, Grease or Cream
Use wax, grease or a special cream to care for your shoes. Apply a thin layer of wax and slowly rub it into the leather with a soft cloth or brush.
You can also wax nubuck leather, but there is a disadvantage: it does not improve the looks of your shoes. So if you have neat shoes made of nubuck that you don't make dirty, you do not have to wax them and cleaning and impregnation is sufficient. If the looks of your shoes are secondary to the functionality, you can safely wax them. This has to be done a little more often than with regular leather, because the rough leather dries out faster.
Conditioning suede with wax can be compared to smearing a dollop of petroleum jelly in your hair: it looks horrible greasy. Not recommended indeed. So with suede the following applies: simply clean better and impregnate more often.
Synthetic material does not need to be waxed, but often your shoe consists for a (small) part out of leather. And that does need care. Use a special wax with minimal nutrition on the leather parts, so that you do not ruin the synthetic material but condition only the leather. Synthetic artificial leather obviously does not need to be treated with wax.
Aftercare
After waxing your shoes should dry. Also give them time to dry on their own, at room temperature. Never use a heat source such as a heater or the sun to dry your boots quickly. After drying, rub again with a cloth or brush.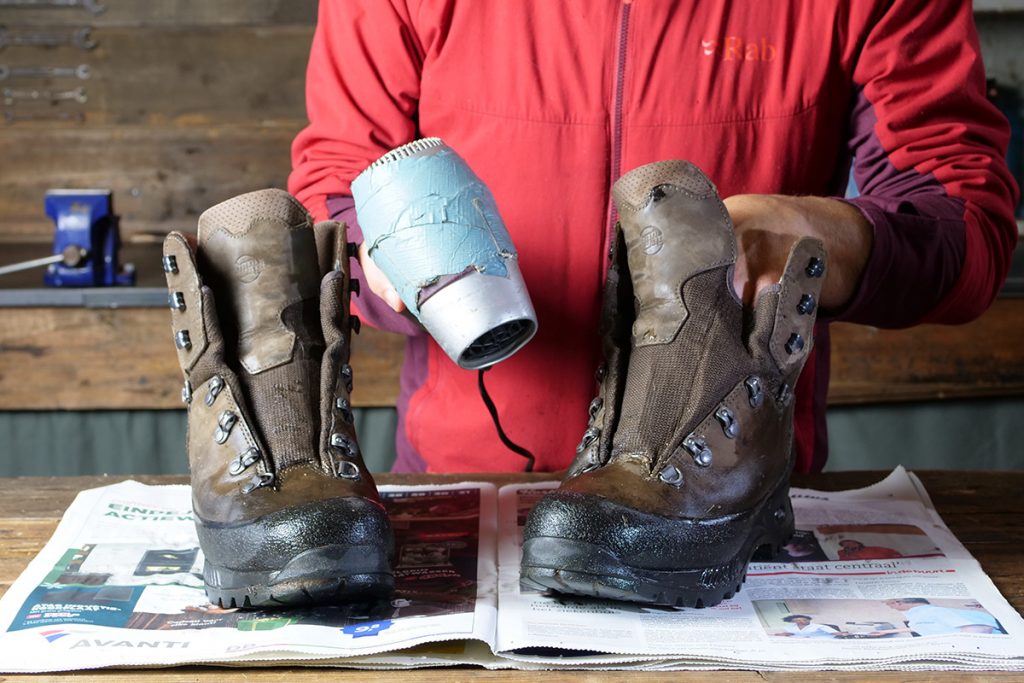 Do you put them away? Then do this at room temperature in a dry place, for example in a cupboard, a shoe rack or a (heated) shed. To keep the shape, you can put wooden shoe trees in your shoes. Wood absorbs the moisture in your shoes, so avoid using metal or plastic tensioners.
Cleaning: The Inside
Many people forget that the inside of your shoe also needs maintenance. You have different cleaning methods for each lining. I make a distinction between a lining made of smooth leather and Goretex.
Leather
Remove the insole and laces from your shoe. Thoroughly wet a cloth with lukewarm water and soak the inside of your shoe well. Then let your shoe dry completely on its own, rinse the cloth and then wet it again. After the shoe is completely dry for the second time, try to treat as much of the inside as possible with impregnation spray or a thin layer of wax.
Gore-Tex
To clean the Gore-Tex inner layer, run a layer of lukewarm water into the shoe. For a low shoe 1 to 2 centimeters is sufficient and for a high shoe 5 to 6 centimeters. The water removes the remaining salts and acids from your perspiration. Shake the water through your shoe and let it drain until everything is completely dry. Do not dry using a heat source such as a hair dryer or heater. This will destroy the breathable membrane of the Gore-Tex.
How often maintained?
The best indication of how often your hiking boots need maintenance is the degree of use. Logical, because the more often and more intensively you use them, the more often they need cleaning and maintenance. You are also dependent on the weather in which and the surface on which you walk. After walks during a rain shower over muddy paths, you will have to maintain your shoes sooner than when you walk through a dry lawn. A cautious indication, taking into account only the frequency of use:
Heavy use: three or more uses per week: once every two weeks,
Average use: once every two weeks: once a month,
Low use: less than once a month: maintained once every three months.
Rarely use: put away in a cupboard or shed: maintained once every six months, inspected once every three months.
During a tour
Are you making a multi-week hiking tour? Then it is advisable to bring some maintenance products. You can put an aerosol, brush and cream in your backpack. Do you notice that (part of) your shoe darkens when you walk through the rain, you can easily impregnate it quickly. Do you walk a lot through mud, sand or other dirt? Then brush your shoes clean after every day. By the way, make sure you have an extra pair of socks for every hiking day, against sweat. It also never hurts to bring an extra set off laces and a different insole.
PAY ATTENTION!
A lot can go wrong with the maintenance of your shoes. Below are things that you should definitely NOT do with your shoes, because they can seriously affect the quality:
Drying them using a heat source. The leather can tear as a result and Goretex loses its breathability.
Store for a longer period of time without treating them first.
Store in a plastic bag. The remaining moisture will first of all cause them to stink and in addition mold can develop.
Too much maintenance. They do require regular but not excessive care. The result is that the leather becomes too flexible and weak. Irreparable.
Use products that are made for shoes or for the leather type of your shoes. Always buy the products from specialty outdoor stores and ask the staff for advice.
The sole
As mentioned before, polishing your shoes is a good time to immediately carry out an inspection. Is your sole broken or worn out? Then you can have it replaced. Resoling shoes is a highly specialized process and it is therefore strongly inadvisable to do it yourself. Resoling your shoes costs around one hundred euros ($ 122 or £ 91). Not all shoes can be resoled. If the outsole, the midsole and the shoe are produced as one solid piece, the shoemaker will not be able to replace the entire sole, but will repair the worn parts.
Requirements for maintenance
Only three things are really needed to maintain your shoe, namely a brush, an impregnation spray and a maintenance cream / wax. All other products are extras and not essential for cleaning your shoes. Here's an overview:
Brush (or 2)
It is best to use a brush for superficial cleaning of your shoes. You can get rid of most of the dirt with a medium-soft brush. You can also buy a rough brush for stubborn dirt.
Impregnation spray
Makes your shoes water-repellent again and retains breathability. Impregnation sprays are based on a number of different substances, with their own advantages and disadvantages. For example, one is more environmentally neutral and others have a better water-repellent effect. When purchasing, pay attention to whether the spray is suitable for the material of your shoes.
Maintenance cream or wax.
Nourishes the leather and therefore keeps it supple and healthy. Feeding is important to keep the leather from tearing. This maintenance product can also come in spray or spray form, but an ointment penetrates deeper into your shoes. Make sure you really use a product that is suitable for shoes.
Useful links for your convenience
International
The Netherlands
If you are living in The Netherlands please think about buying local at
Bas Buitensport (www.basbuitensport.nl) in Wageningen and Carl Denig in Amsterdam (www.carldening.nl) since they always help me out when I need something last minute.