Cat Phones is known for their rugged smartphones. New kid on the block is the exceptionally thin and sleek but truly rugged Cat S52 phone. Read the news!
Size: 158.1 x 76.6 x 9.69mm
Weight: 210g
Price: € 499,00 / £ 449,00
Cat Phones announces the launch of the Cat S52, the exceptionally thin and sleek truly rugged phone. The Cat S52 defies consumer expectations of what a rugged phone looks like, combining military grade toughness with a pocket-friendly design that is thinner than a mainstream smartphone in an often-bulky case that offers limited protection.
At just 9.69mm thin and 210g, the S52 is strengthened by a high-grade aluminium frame with a thin but tough non-slip rubberised TPU backplate, ensuring a sleek, classic look and feel that is never out of place wherever your day takes you. The front face of the product is fully covered by scratch and crack-resistant Corning Gorilla glass 6, slightly recessed below a surrounding protective ridge, with full metallic keys and waterproof connectors completing the design.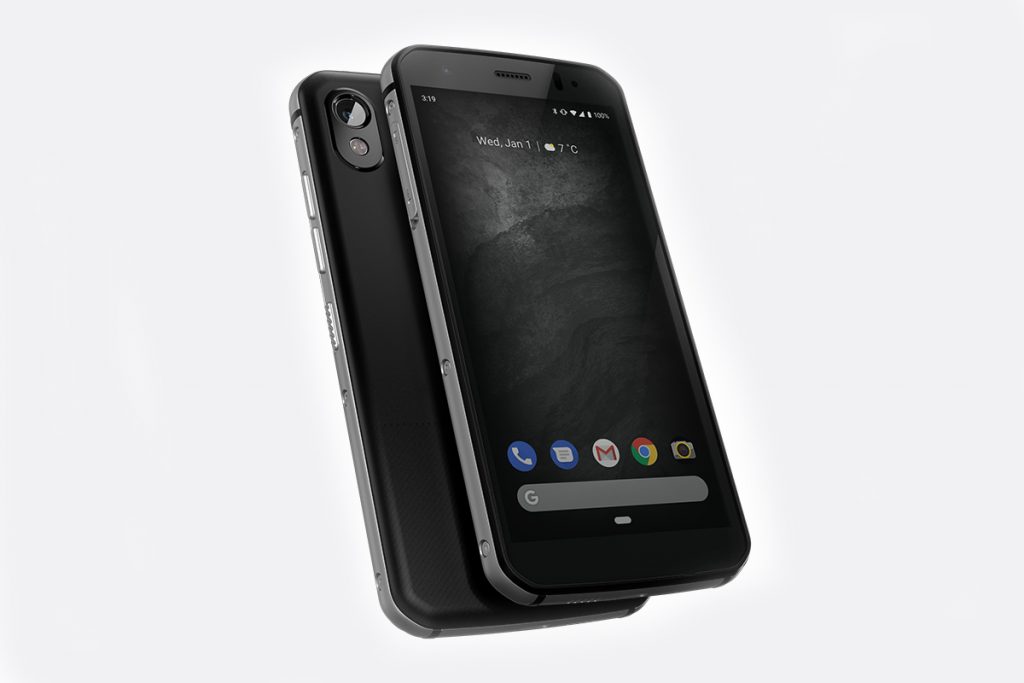 Built to last drop test
Despite its elegant design, our latest Cat phone is as tough as ever, all round. Cat phones set the standard in rugged, and the Cat S52 is no exception. It is built to last, subjected to our extremely rigorous drop test onto steel, 30 times from 1.5 metres, including drops on every side and corner. It is dirt and dustproof, and can be fully submerged in water, with an Ingress Protection rating of IP68. It's also Military Spec, conforming to the US military's MIL STD 810G standard. This means we've put the product through a barrage of Mil Spec robustness tests, including thermal shocks, high and low temperature extremes, vibration tests, tumble tests, and salty mist conditions, ensuring that with the Cat S52, accidents don't happen.
Rugged at its core
"Statistically, 1 in 3 Europeans have severely damaged their phone from everyday drops and mishaps in the last three years – that's a lot of phones breaking. Not only is that hugely inconvenient for consumers, but repairing or replacing phones can prove prohibitively expensive. With the Cat S52, we've made a smartphone that life won't break. It's a true rugged Cat phone at its core, but with a mainstream design that looks and feels great. Sleek and tough – it's one less thing to worry about," said Peter Cunningham, VP Product Portfolio at Bullitt Group.
S52 Camera
The main camera boasts fast and accurate focusing thanks to its dual pixel Sony sensor, and its bright f/1.8 aperture and large 1.4µm pixel size delivers great low-light performance. This, combined with advanced multi-frame image processing software, provides a class-leading camera experience for a rugged phone. The Cat S52 has a retails for €499 / £449
Information: www.catphones.com
Spcifications
Drop tested at 1.5m (5ft) on steel, 30 times, including on to all sides and corners
Ingress Protection (IP68):
Sand, dust and dirt resistant
Waterproof up to 1.5m for 35 minutes
Mil Spec 810G:
Thermal shock: -30°C (-22°F) to 65°C (149°F) for up to 24 hours
Resistant to vibration: Category 4
Resistant to humidity and salt mist
No need for a case; screen protected by Gorilla® Glass® 6
Rear-facing: dual pixel Sony 12MP sensor, f/1.8, 1.4μm, PDAF, EIS
Front-facing: 8MP sensor
Long Life battery 3100mAh (supports fast charging). Non-removable Lithium Ion
Android™ smartphone
Android 9 – guaranteed update to Android 10, and 90-day in-life security patches
4GB RAM, 64GB ROM, expandable with MicroSD™ card to ensure plenty of storage (separate microSD™ and SIM slots)
Dual band WiFi (2.4GHz/5GHz), BT5.0, NFC
GPS, AGPS, GLONASS/Galileo
Nano SIM (dual and single SIM variants)
Fingerprint sensor
USB Type C (waterproof)
3.5mm audio jack (waterproof)