The Hestra Ergo Grip Active Glove is one of those products that I have been using for years and never made a review of. This is that review. Enjoy!
Weight: 120,3 grams
Pack Size: 6 x 12 cm
Size: 6-11
Price: € 100 / £ 89 / $ 110
Sometimes I just take things for granted; mostly because I don't think that they are that special. With the Hestra Ergo Grip Active Glove this is the case and that is not right since everytime I go somewhere and people ask about the glove I can't keep my mouth shut. Why? I will explain in this review.
Outdoor Academy of Scandinavia
I remember my first encounter with the Hestra Ergo Grip Active Glove very precisely. It was in the winter of 2015 that I was invited on a trip with the Outdoor Academy of Scandinavia to Abisko in the 'North' – for a Dutchman – of Sweden. We did a wonderful hike of a few days in the Abisko National Park. One of my earlier videos I made there. Curious? Follow this link when you are done reading this review. Yes, ok… I'll put the link below too and it is in Dutch….. Back to the Hestra.
It was one of the guides that was chopping some wood with an axe that had them on. When he did not use them, the gloves were dangling on a carabiner from his belt. Man, did he look cool. The gimmick that triggered the gloves to my attention was not just the looks but also the small red part on the index finger. So I asked the guide about it and we started talking. He was pretty – UNDERSTATEMENT – enthusiastic about them. He did not mention the price…
Two years later my family and I went to Sweden for the summer holidays. Like we do every year; except the Covid-19 year…. I always visit every outdoor shop we pass and at the shop in Haparanda there was one pair Hestra Ergo Grip Active Glove in size 9 waiting for. I paid about € 90,00 for them. A ridiculous amount of money for a pair of gloves? No, not really. Now, on to the facts.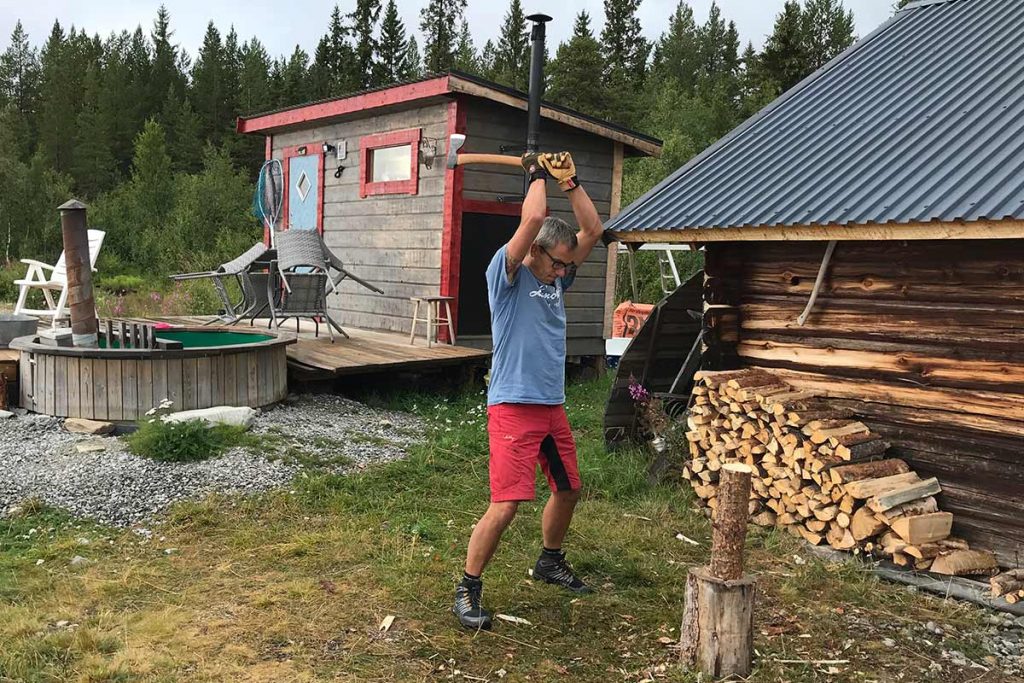 Size and weight
Like I mentioned my gloves are a size 9. And this is a bit special since I mainly have gloves in size 8. But these Ergo Grips fit like… right, a glove. On the Hestra website is a good tutorial on how to measure the right size and a size chart too. So use it if you plan to order online.
The weight of the gloves is on my precise scale 120,3 gram. Hestra does not state a weight on the website so I can't check if they are according to the Hestra specifications. But to be frank, let's not bother about this. The Hestra Ergo Grip Active Glove is available in whole sizes 6-11 and it is a unisex glove. Ladies, special attention please: Hestra advises with the unisex glove models to buy one size smaller than you normally have for a ladies glove. So Hestra ladies size 8 is a Hestra unisex 7.
Materials
The Ergo Grip Active Glove outer is made of a combination of goat leather and 100% polyester. You wil find the goat leather is on the palm side of the hand and it covers 80% of the fingers. This polyester is in fact Gore-Tex Windstopper (more on this later) and covers the back of the hand and the upper of the fingers while the cuff is made from neoprene like material. The goat leather leather is impregnated and the Gore-Tex Softshell is windproof and a little water repellant. On the inside the glove liner is also made of 100% polyester and covers the whole inside including the fingers.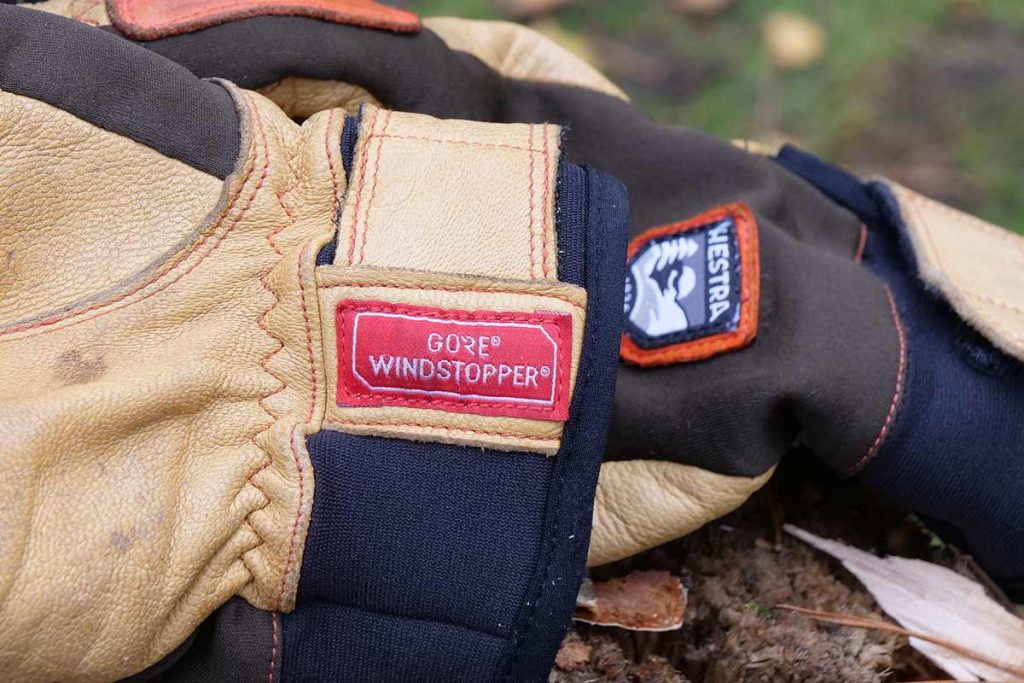 Construction
In my previous life I was a motorcycle and motorcycle gear reviewer. Why is this relevant to an outdoor glove review? Well, with motorcycle gloves I learned how important it is to have a pre shaped form. It gives less fatigue on long rides and it is super comfy. If you are a tourskieer and use ski poles you know this too. The Hestra Ergo Grip Active Glove is very much pre-shaped and the fingers curve strongly – hence the name Ergo Grip.
The cut and the stitching is done superb. Most stitches are 'regular' dubbel chain stitches but at the vingers a locking zigzag stitch is used. The cuff has a velcro adjustment strap that is covered with goat leather. Both gloves have a loop that enables them to be hung with a carabiner from a belt or a loop on a backpack. And the red leather part on the side of the index finger is originally there to protect the glove when opening the bindings on ski shoes and the buckles and when using (nordic) ski poles. But is works fine too when you are using ropes in mountaineering.
Comfort
It has been years now that I bought the Hestra Ergo Grip Active Glove and I remember that the first days I needed to break them in. Especially the double layers and the stitches on the inside of the fingers needed some time. But that was all. Putting the gloves on is easy since the cuff can be opened quite widely and secured with the velcro strap. The liner of the glove is very soft to the skin since it is brushed polyester.
Because the glove upper being softshell material that is elastic, also here a lot of comfort. It is windproof and a little shower is not a problem. Same for the leather. This is impregnated to withstand water to a certain degree. The softshell material on the upper thumb doubles as a great nose wipe by the way. The goat leather is flexible and the thickness of liner and leather together are fine for feeling what I do. Using the gloves with colder weather and putting a nut on a bolt is no problem.
Outdoor use
The main purpose for gloves in my outdoor life is when I am working with cutting tools. This can be an axe, a chainsaw or a knife if I am doing some spoon carving. For these jobs the Hestra Ergo Grip Active Glove has proven to be excellent. I have been using them in review of the CamperGlück Foldable Grill.
The goat leather provides super grip when swinging an axe. But also for collecting wood, I like the Hestra gloves. For taking a hot Dutch oven of a campfire, they do the job. Carrying big stones to build a campfire cirkel, same. Or just using them with a bit chilly weather as protection from the cold… I have even been using them ski touring, snowshoeing and hiking in not too severe – -5 degrees Celsius – winter circumstances. What I do love is the loop on the gloves so I can attach them to my belt or backpack when not using them.
Rugged
I can be short here. Yes, and the proof is in the pictures. They have been battered for years and now they just look like gloves that have had a nice life in the outdoors. This is how they should look. Are they done yet? No, I have many more years left with them. For sure.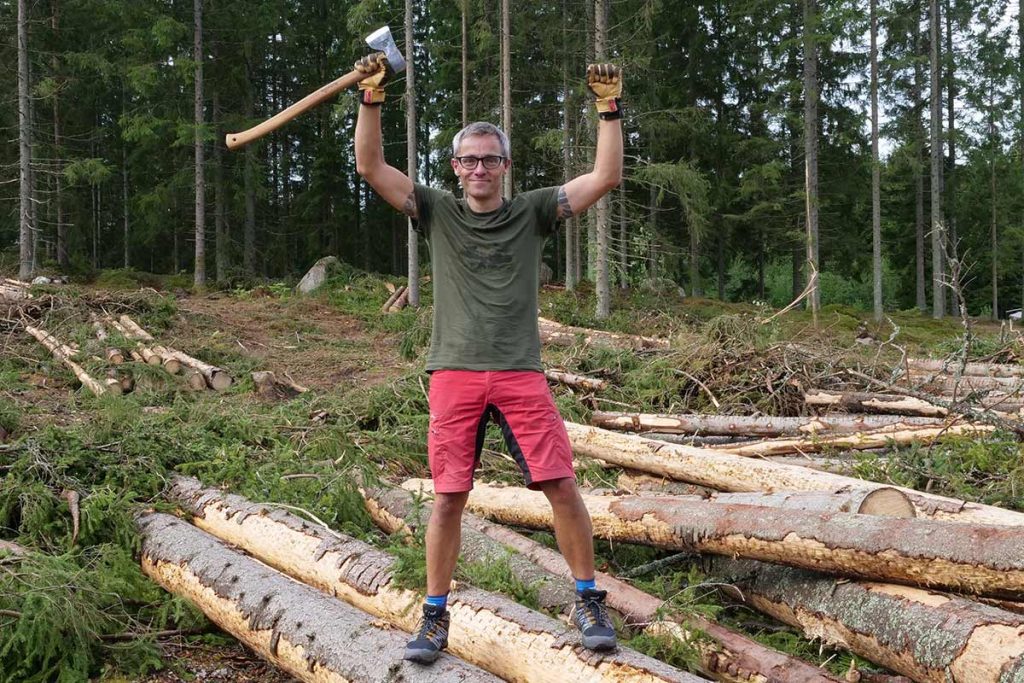 Maintenance
Like leather shoes, the Hestra Ergo Grip Active Glove needs maintenance too. From time to time my gloves get wet and very dirty. I clean them with a mildly damp cloth and a soft brush. I just let them dry in the open air. Or just on my hands wearing them. Yes, like shoes, they love to be fed with wax. I do it with my little can of Lundhags Leather Grease since I already have this for my Lundhags shoes. I love the tarr smell of the stuff! Although the wax works for me and has proven to do no harm to the gloves, I would advise Hestra Leather Balm since that has been tested with Hestra gloves. Just in case.
Gore-Tex Softshell
One remark I should make is on the Gore-Tex Softshell label that is on my gloves. This is a red label stating: Gore-Tex Softshell. On the new gloves this label changed into Gore-Tex Infinium. The material is still the same softshell only Gore made a choice to brand the whole brand in a new way. That is all.
Verdict
In the years that I have been using the Hestra Ergo Grip Active Glove, they have proven to be everything that an outdoor glove should be. They protect the hands well against sharp objects and are great to use with sharp objects like knives, axes and chainsaws. Also with not too cold weather – -5 degrees Celsius – they are fine in protecting against the cold and wind and a little rain. The goat leather provides good grip and is easy to maintain.It has a great fit, is extremely comfortable due to the strong pre-shaped fit and very, very rugged. After four years of intense use on an almost daily basis I can say that I really love them. The price of € 100,00/ £ 89 /$ 110 is peanuts. I rate the Hestra Ergo Grip Active Glove at 9,5/10.
Link to the Abisko National Park hike video here
Information