The Fjällräven Abisko Trekking Tights for woman are made from stretch fabric. But are they as comfortable as the hiking trousers? Read the article or watch the videoreview!
Weight: 199,4 grams (claimed 265 grams), both size S
Sizes: XXS – XXL
Price: € 169,95
Fjällräven is known for their hiking trousers. In their Abisko line Fjällräven produces also trekking tights for women: technical walking leggings made from a highly functional stretch fabric. Are they as comfortable as the trousers?
Fjäll's Abisko line
Before starting on the Trekking Tights directly, let me tell you a bit about the heritage of the Abisko name. Abikso is a mountain village located at the foot of Mount Nuolja in Swedish Lapland. Here is the finish line of the Fjällräven Classic and it is also the northernmost point of the classic trekking trail Kungsleden, the Kings trail. Abisko, surrounded by the national park and beautiful mountains, is the perfect starting point for day trips. I've been there and it is worth the journey wherever you come from! With this kind of adventure in mind, Fjällräven developed the Abisko product line.
Abisko Trekking Tights Materials
The tights are made from a high-performance stretch fabric that is durable and absorbs moisture. This stretch fabric is for 82% made of a polyamide and for 18% of an elastane. The tights have reinforcements on the knees and at the back (buttocks) for extra protection in rugged areas and when sitting on damp ground. These reinforcements consist of 62% polyamide , 16% aramid, 12% elastane, and 10% polyester. The fabric has a Durable Water Repellent (DWR)-coating that is free from PFC's.
Waist pocket
At the top of the tights there is a comfortable, wide waistband that can be adjusted with a drawstring on the inside. Integrated in this waistband is a spi-belt. It is funny that Fjäll doesn't mention this spi-belt on their website. At the back there is an opening in the waistband and you can put your smartphone, car-keys or an energy bar or gel in there. Since the pocket is very elastic even a smartphone plus size fits with some effort.
Pre-shaped knees
The knees of the tights are pre-shaped. That provides even more comfort. And Fjäll claims on their website that the tights have adjustable pipe ends. Well, I cannot find the adjustable things, but they are off course also very stretchable and that is a way of adjustability too.
Pockets
Each pipe has a pocket. The one on your right leg is meant for a map. It is closed by a piece of fabric that covers the pocket. You can take your map out quite easily in this way. One remark… Since the shape of the pocket is tapered towards the bottom it is more suitable for folded or rolled maps than for the traditional square topographical maps.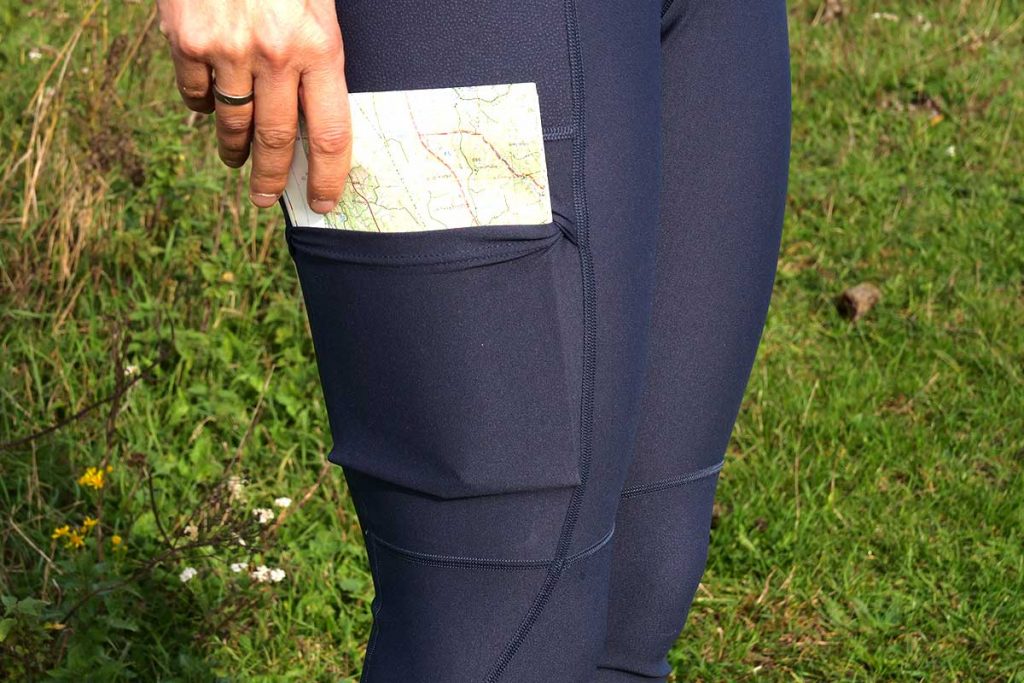 The other pocket – on your left leg – has a small zipper. The zipper is from YKK and a nice piece of cord is attached to it so opening it is easy. In this way you can use it also with gloves or cold hands. Although I don't think you would go for a hike with this tights in very cold weather. On their website Fjällräven suggests you can attach gear or a light jacket to the cord loop as well, but in practice it's not very comfortable walking with gear bouncing into your left leg.
Comfort
I tested the Fjällräven Absiko Trekking Tights during several hikes. And they are very comfortable indeed. Because of the stretch your movements are not limited at all. And because of the reinforcements on the back and on the knees you can sit on sharp stones and rocks without fear of damaging the tights. I had to walk sometimes through fields filled with thistles. You have to be a bit careful there because you can feel the spines a bit through the parts without reinforcements. These reinforced parts are neither waterproof nor water-resistant. Sitting down in a mildly damp field will result in a wet bum and even rain gets the tights wet quite fast so what the function of the DWR-impregnation is…. When it is really wet, you can easily wear the tights underneath your rain trousers. Fit better than a normal trekking pant and is way more comfy! The tights are pretty quick drying by the way.
Weight
I weighted the trekking tights on my precise scale. And I measured them at 199,4 grams. So that's under the 200 gram. Fjäll claimes a weight of 265 grams. The size cannot explain the difference because it's both about a size S. Anyway they have a very low weight and that's comfortable while walking.
Washing label
The Fjällräven Trekking Tights can be washed in the washing machine at 40 degrees with a detergent that does not contain fabric softener. They cannot be tumble-dried, but you are allowed to iron them at the lowest setting. This is also advisable because the DWR-coating is regenerated. After a few washing it might be necessary to do an extra wash cycle with a wash in to impregnate the fabric and make is water resistant again.
Made in Lithuania
The pants are made in Lithuania and I think it is good that Fjällräven indicates that the pants are made with parts of animal origin. This would be the small leather Fjällräven Fox logo and the right leg, because the rest is synthetic. If you are vegan this is useful information.
Verdict
The Fjällräven Abisko Trekking Tights are very fine walking leggings. The comfort is exceptionally high. The stretch and the pre-shaped knees provide a lot of freedom of movement. Remains the question if the tights are as comfortable as the trousers? I guess that's a very personal thing and maybe some experience. I was always sure I liked trousers best, but since I made some serious hikes in tights I am not so sure anymore… I think they are more comfortable, but you should be aware of the fact that they offer less protection than the traditional trekking pants. Also I would to see a DWR-coating that is not only sustainable, but also a bit more durable. The Fjällräven Abisko Trekking Tights retails at € 169.95 and that is quite a high price for trekking tights and that is why I rate it at 8,7 out of 10 points total.
Information EU Woman: www.fjallraven.com
Information EU Men: www.fjallraven.com
Information US Woman: www.fjallraven.com
Information US Men: www.fjallraven.com